Microneedling Lifts
At Juvenate, we're on a mission to empower you to take care of yourself on a whole new level. We're excited to offer the Microneedling lift by Vampire Facelift®, the powerful skin treatment that's taken the med spa and beauty industries by storm in the past few years. It's safe and proven to deliver results because it leverages your body's natural systems to revive facial tissue. The result is a more youthful appearance that lasts a significant amount of time, making the investment well worth it. Is a Microneedling lift right for you? Schedule an appointment with our Northwest Florida wellness facility to discuss your options.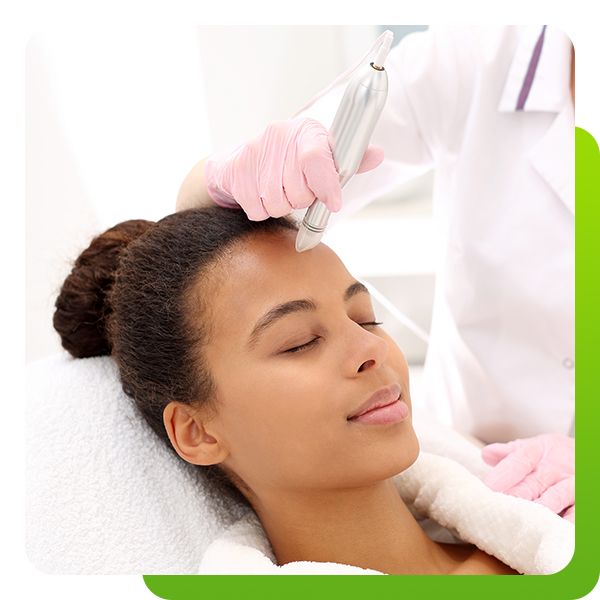 The Benefits of Our Microneedling
If you've struggled with acne scars, wrinkles, or sun damage, you've probably heard of microneedling – the treatment which uses controlled micro-injuries to stimulate your skin's natural healing process.
Most people want to have glowing, fresh and beautiful skin for a more aesthetically pleasing and youthful appearance. Juvenate's vampire facial takes microneedling to the next level, using your own blood's special healing cells to improve your skin tone and smooth out any imperfections. Let's look at how it works…
A small sample of your own blood is taken and is used because it contains a variety of growth factors and other beneficial proteins, without injecting toxins/foreign substances into the skin. Our microneedling pen pricks tiny holes in your skin, stimulating its natural healing processes. In addition, the tiny breaks in the skin stimulate collagen production in the deeper layers of the skin which allows for facial rejuvenation by reducing the appearance of facial wrinkles and scars. Simultaneously, your clinician will massage the beneficial growth factors into treated areas to penetrate deep into your skin so they can work their rejuvenating magic.
Allow your body to harness its natural antiaging powers, with natural fillers and rejuvenating serums derived from your own bodies healing cells.
Juvenate uses the latest technology that creates a matrix for the growth factors to grow on, concentrating them at the targeted site for their sustained release for maximum effectiveness. This all-natural solution can treat areas including face, under-eye hollows, deflated cheeks, neck, lips, chest, hands, scars, and stretch marks.
What skin conditions can Microneedling treat?
Acne scars

Age spots

Wrinkling

Sun damage

Scarring caused by injuries such as burns

Hyper-pigmentation
Even if you're lucky enough not to have any of these issues, you may want to consider our microneedling to improve your skin's tone, texture, and overall appearance.
Schedule an Appointment
Is the our Microneedling Facelift right for you? Our team is ready to sit down with you and discuss your needs.
Get in touch to get started!