About Juvenate
In a world where health and well-being are at the forefront, Juvenate Wellness offers a comprehensive range of services that unlock the body's natural healing capabilities. From regenerative medicine and weight loss to hormone therapies, sexual enhancement, non-surgical joint repair, and IV therapy, Juvenate Wellness paves the way for a healthier life. By utilizing cutting-edge techniques like stem cell therapy and PRP treatments, Juvenate Wellness empowers the body's natural healing process. Personalized weight loss programs and hormone therapies promote vitality and well-being. Sexual enhancement treatments enhance intimate well-being, while non-surgical joint repair provides relief from pain and discomfort. IV therapy delivers essential nutrients, revitalizing overall wellness from within. Embrace a brighter future and unleash your full potential with Juvenate Wellness's transformative services. Embracing Juvenate Wellness means embracing a life of improved health and well-being.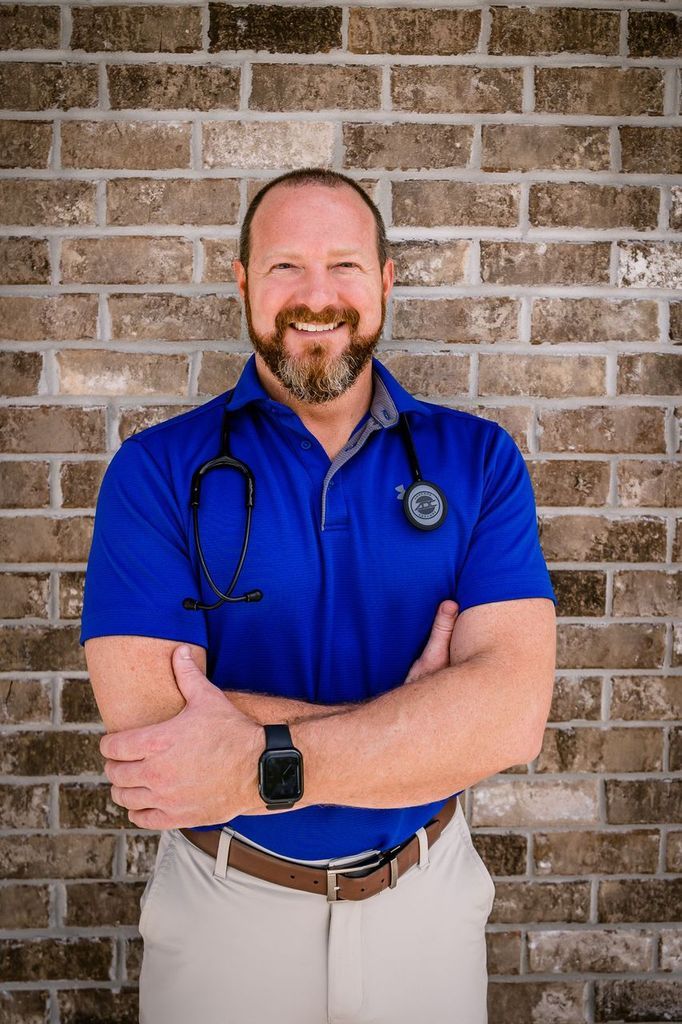 Brad Whitfield APRN, FNP-BC
Who is he?
David "Brad" Whitfield: Pioneering Excellence in Regenerative Medicine
Meet Brad, an esteemed medical professional who has made a significant impact in the field of Regenerative Medicine & Cell Therapy. With an unwavering commitment to patient care and a passion for advancing medical knowledge, Brad has emerged as a highly respected figure in the healthcare industry.
Education and Background: Brad's journey in medicine began after his military career, where his passion for healing and helping others blossomed. He pursued his academic path with determination, excelling in his studies. Brad earned his undergraduate degree in Nursing from Chipola College (Marianna, FL) and Troy University (Troy, AL). Realizing the importance of specialized training, he continued his postgraduate studies at Walden University, further honing his expertise. Brad's dedication to learning led him to complete a rigorous residency program at Gulf Coast Biologics.
Career and Contributions: Throughout his illustrious career, Brad has consistently demonstrated excellence in patient care, research, and education. Holding significant leadership positions in esteemed medical institutions, Brad has made notable contributions to his field. His diagnostic abilities, compassionate patient-centered care, and innovative treatment approaches in Regenerative Medicine & Cell Therapy have earned him widespread recognition. Brad's expertise played a pivotal role in developing and implementing cutting-edge medical techniques, leading to remarkable advancements in the field. His research and articles in reputable medical journals solidify his status as an authority in Regenerative Medicine, earning prestigious recognition such as the Sartorius & Science Prize for Regenerative Medicine & Cell Therapy.
Commitment to Patient Care and Community: Brad's dedication to providing comprehensive and compassionate care is evident in his interactions with patients. He listens actively and understands their concerns, crafting personalized treatment plans for optimal outcomes. His warm and empathetic approach has garnered the trust and admiration of both patients and peers. Beyond his medical practice, Brad actively participates in community outreach programs and medical missions, extending his expertise and care to underserved populations. He strives to improve healthcare accessibility and patient education, making a positive impact on society.
Awards and Recognition: Brad's exceptional contributions to the medical field have been acknowledged through numerous accolades. In addition to the Sartorius & Science Prize, he received the American Regenerative Medicine Foundation Award for Excellence in Clinical Practice and Research. These prestigious awards serve as a testament to Brad's expertise and unwavering dedication to his patients and the medical community.
Bottomline: Brad stands as an accomplished medical professional, renowned for his expertise in Regenerative Medicine & Cell Therapy. His commitment to exceptional patient care and the advancement of medical knowledge continues to inspire and make a lasting impact in the field of medicine. With his compassionate approach and relentless pursuit of excellence, Brad embodies the qualities of a respected healthcare provider, enriching the lives of his patients and contributing to the progress of medical science.